Good morning students, You should receive a TENTATIVE Fall 2022 schedule from your 1st block teacher. These are not available on Infinite Campus. If you have Dual Enrollment or are a Tift Academy student, you may pick up a copy of your schedule from the front office. The link that is posted on the schedule has been updated. Please use the following link to request a schedule change: The correct link is:
https://tinyurl.com/TCHSschedule22
Please DO NOT email your counselor requesting a change. Once you request the change, we will process these over the summer. You will be able to see your new schedules sometime in July. Please do not email your counselor asking if your schedule has been changed yet. If a course/block is blank, there is no need to complete a schedule change request. Since we are in the process of finalizing faculty teaching assignments, some courses do not have an active instructor. All blank courses will be addressed prior to final schedule release in July.

Ethan Jackson and Hollee Dunston were crowned as Prom King and Queen at the 2022 TCHS Prom. Congratulations to all members of this year's Prom Court. #BTTY
https://youtu.be/sjLPu8XG6hw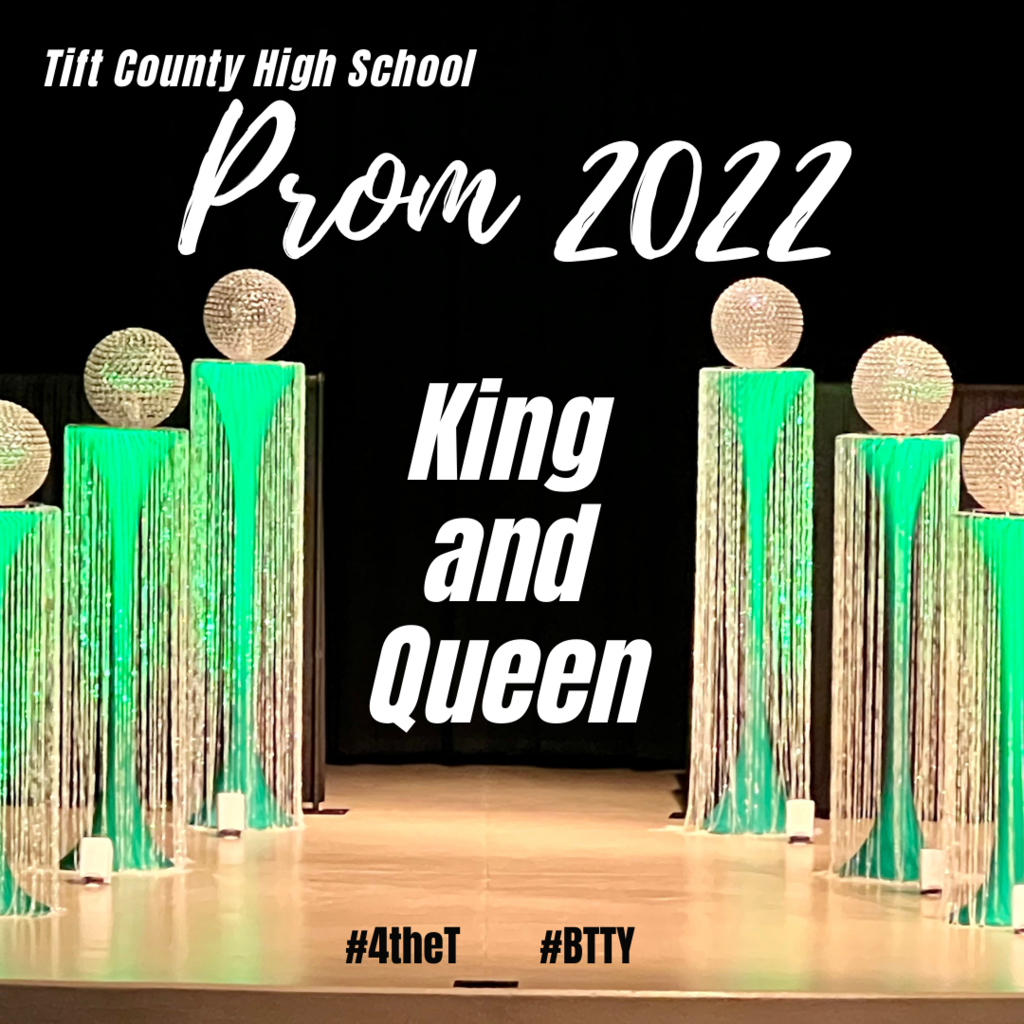 You can watch Senior Walk from TCHS Prom 2022 via live stream...Saturday night, April 30th at 9:00pm at
https://youtu.be/B1TFusUgFNw
#4theT #BTTY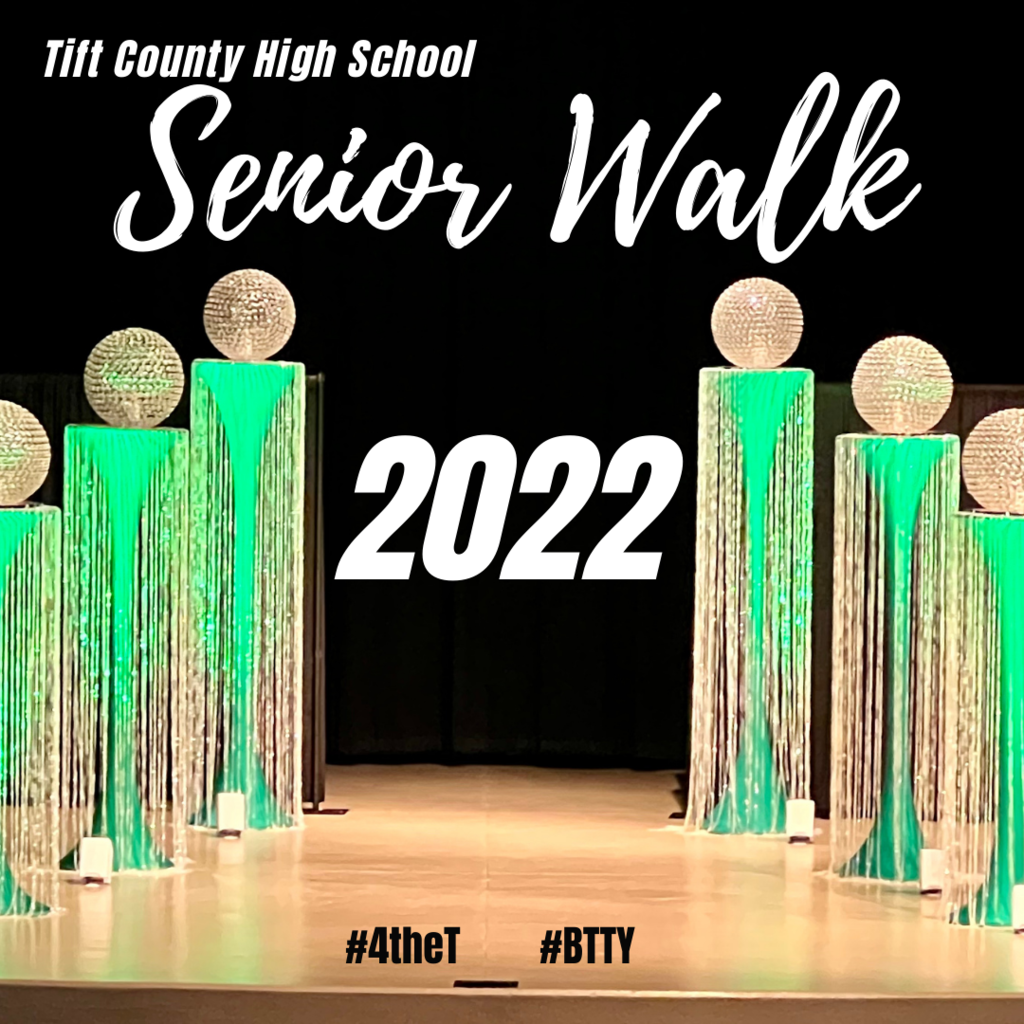 Congratulations to our Academic Quiz Bowl team. These students competed today in Lowndes County and won 1st place! Introducing to you the TCHS Region Academic Quiz Bowl team!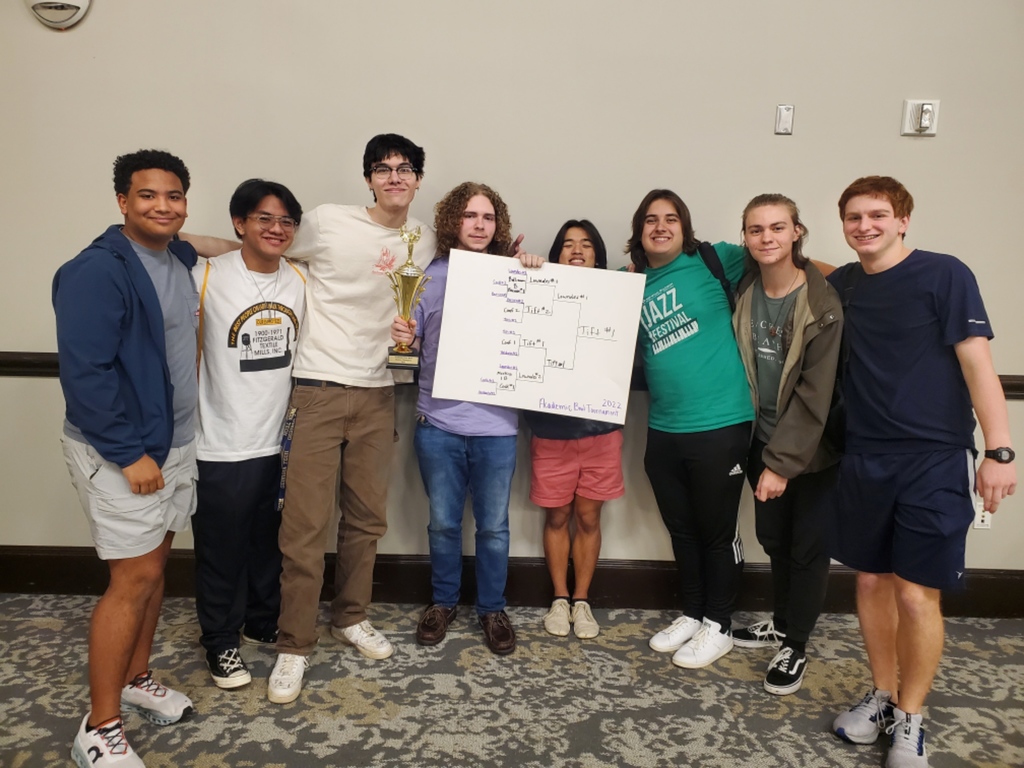 Congratulations to Timothy Wright. Timothy signed with Brewton-Parker College to wrestle for them. #BTTY #4theT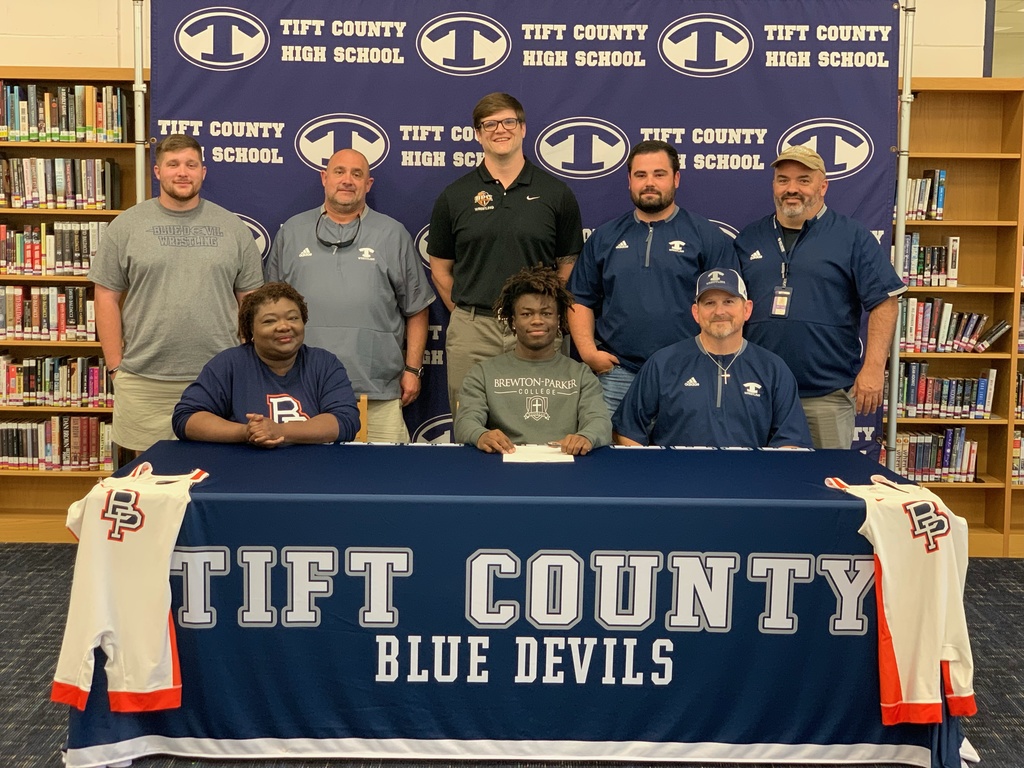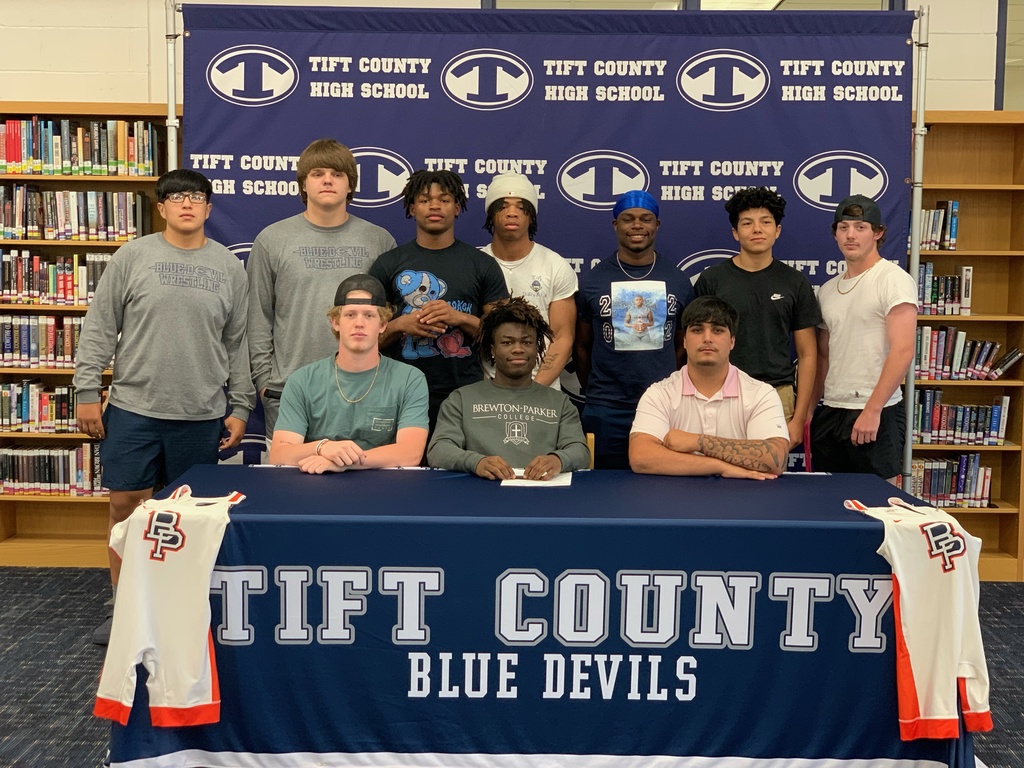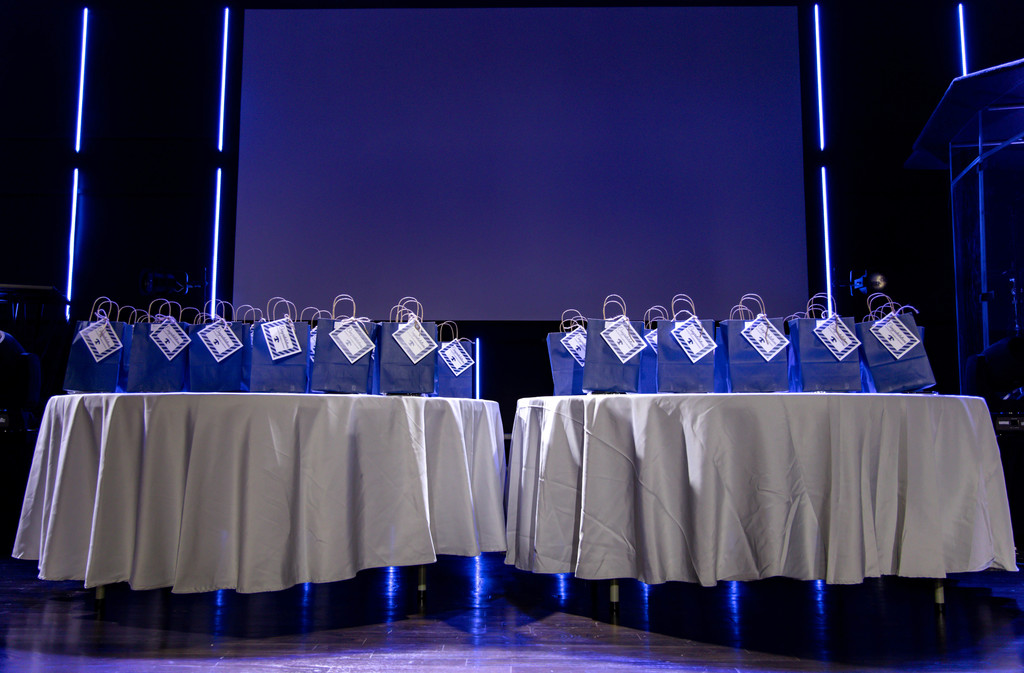 Jimmy Cole, owner of Cole's Cakery, spoke with Mrs. Keen's Advanced Graphic Design students today. Students loved hearing his story of how he started out his Graphic Design journey at SCAD. Now, he is a successful business owner still utilizing his graphic design skills. Mrs. Keen's students learned there are a variety of job opportunities in the Graphic Design field. #BTTY #4theT

T2i Technology Internship students were recognized for their outstanding work this semester on Wednesday. These students worked under the direct supervision of the technology specialists at Tift County High School and Eighth Street Middle school. The T2i Internship is a partnership between the CTAE Program and Tift County Schools Technology Department to help students continue to gain career readiness beyond the traditional classroom.


The LSGT meeting originally scheduled for tomorrow has been cancelled. We will reschedule a different date and post. #BTTY #4theT

Weekly T for Parents. There is a lot of information on this edition with a lot of dates. #BTTY #4theT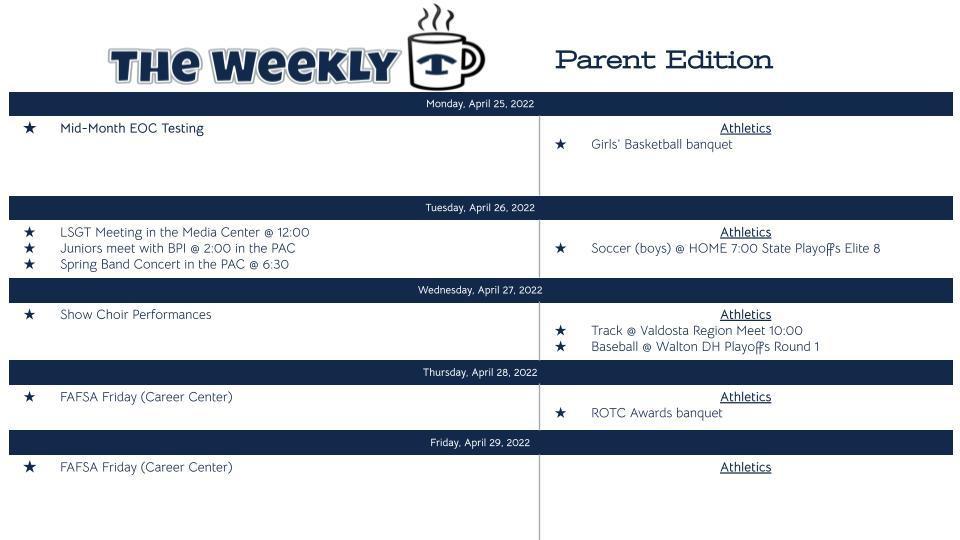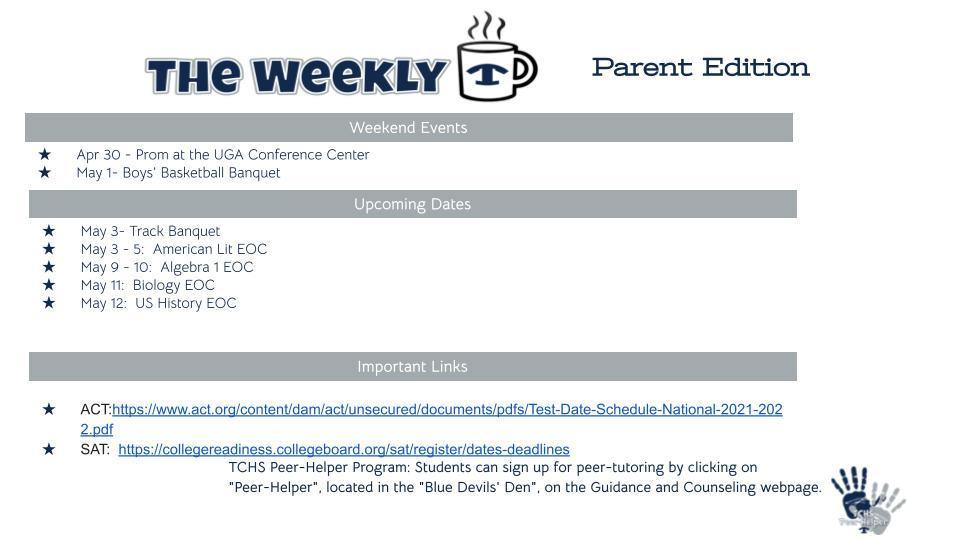 Please help TCHS congratulate senior, Madison Smith. Ms. Smith is the recipient of the TCHS class of 1955 Scholarship! Congratulations! #BTTY #4theT

Parents, check Infinite Campus for your child's grades for the 4th 9 weeks! Use the parent portal app or visit
https://tchs.tiftschools.com/o/tchs
to access the parent portal on the web. #BTTY #4theT

Please check your student's Infinite Campus portal for any fees that are due. These fees need to be paid prior to graduation practice on May 18th. We only accept cash or check. Please make checks payable to TCHS.

Juniors, you are on the cusp of your big year! We have a meeting next week, Tuesday, April 26 at 2:00PM in the PAC to talk about taking senior pictures over the summer. Scan this QR code and fill out the information to get your appointment card in the mail. #BTTY #4theT

We are currently seeking applicants for an Attendance Clerk position at Tift County High School. The job announcement for this and other available positions can be found at
https://www.tiftschools.com/browse/218962
. #4theT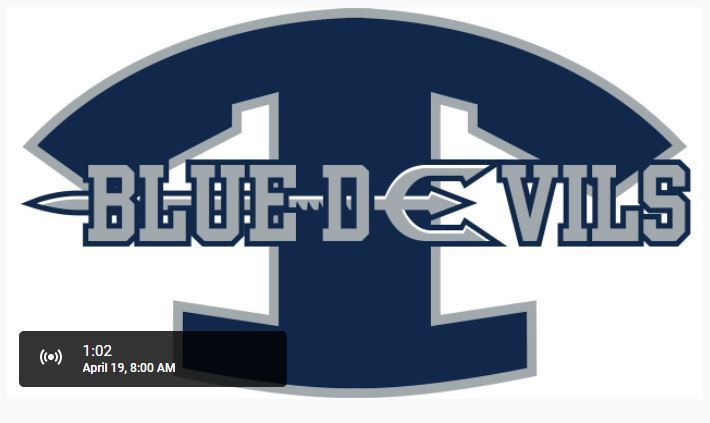 Parents, if you have a senior that is being recognized at Honor's Night or the Pathway Ceremony, please report to the Gym at the appropriate time. You may also view the ceremony on our school's YouTube channel. #BTTY #4theT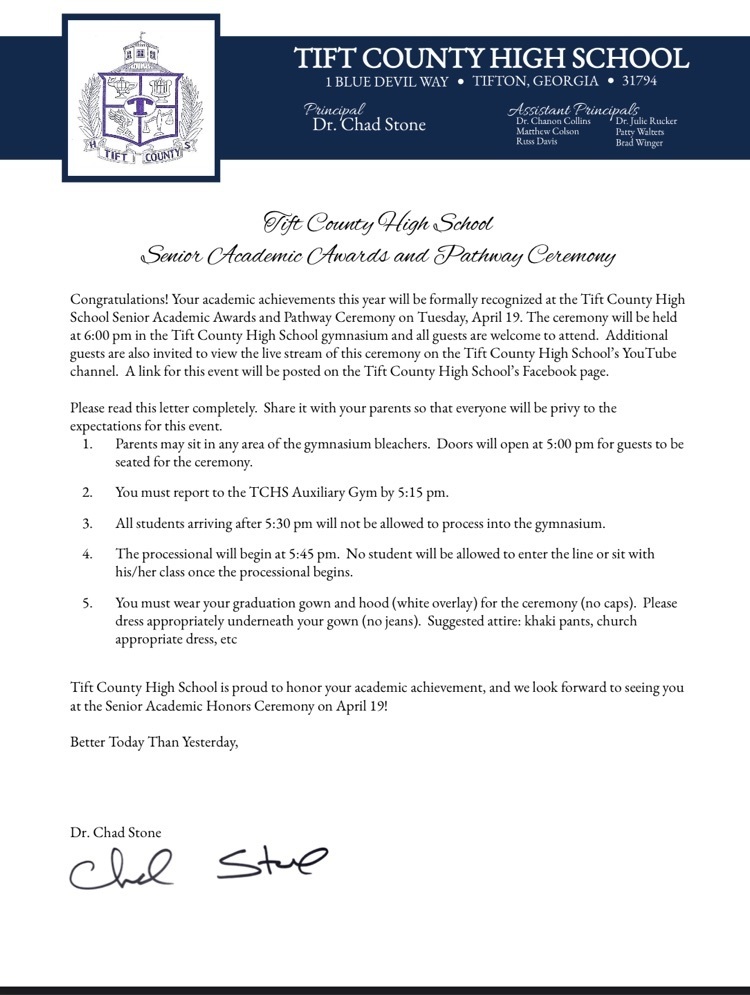 Parents, if you have a freshman, sophomore, or junior that is being recognized at Honor's Day, please report to the PAC at the appropriate time. You may also view the ceremony on our school's YouTube channel. #BTTY #4theT

TCHS is proud to announce the newest member to the 1100 Club. Please congratulate Ms. Ainsley Toews on her success! #BTTY #4theT